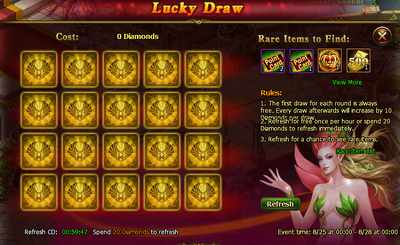 The lucky draw event currently runs for 3 days about once per week.
This event is open to all, not just diamond/pay players.
How it works
Edit
Pick a card any card, this is the very familiar premise of lucky draw, you can select 1 card for free per hour, with another costing 10 diamonds then 20 then 30 etc.
What you can win
Edit
The common items are:
Gold, A level 1 gem pack, A uncommon talisman scroll, Pet potion, Ember grass
The rare items are:
500 vouchers, a level 4 gem pack, 500 honor, 500k gold, poraberry, super EXP pill, pet skill pack (M), arena points card, level 5 gem pack, level 6 gem pack
There are in fact 2 arena points cards, one with 1*2000 and another with 2*2000