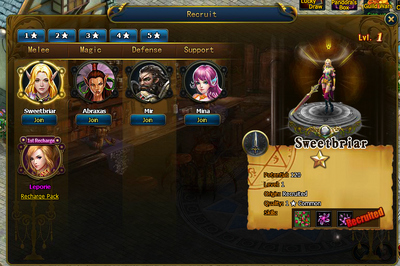 Mercs are your main forces in the game, they come in 5 *(star) levels, and have their own equipment, seperate from the player character, they are very similar to the player, in that they have astrals, talisman, upgrade levels and equipement that are common to the player character. 
Additional Note: There will be an odd occasion where long skill descriptions miss out minor details. Eg: Phantos's skill misses out that it can attack 1 line of enemies. 
How to Obtain
Edit
The 1* (one star) mercs are available from the start of the game, with further levels dependant on the upgrade level of 1*, therefore 2* are not available until 1* are upgraded to level 40, and 3* are not available until 2* are upgraded to level 50 and so forth.
Special event mercs can be upgraded to the next star rank using Starburst Ore according to rank. Example: Monkey King, a 2* merc requires a Starburst Ore 3* to become a 3* merc. The majority of event mercs start out as 3*
Additionally the player level must not be 5 levels below a merc, therefore a level 54 player can have maximum a level 59 merc. You are also able to transfer quality of a Merc to another of same Rank and Class type. This makes collecting mercenaries easier than waiting on one merc to fully upgrade, especially useful for Aid formation.
Available Mercs
Edit
1* Mercs
Edit
| NAME | TYPE | Requirements | Uncommon | Rare | Epic | Legendary |
| --- | --- | --- | --- | --- | --- | --- |
| Sweetbriar | Melee | | Deals 150% PDMG to 1 line | +10% PATK | +100 CRIT | - |
| Leporie | Melee | First Recharge | Deals 170% PDMG to 2 random enemeies | +10% ATK | +100 CRIT | - |
| Abraxas | Magic | | Deals 150% MDMG to front row & reduces DEF | +10MATK | +100 PIERCE | - |
| Mir | Defence | | Deals 130% PDMG to target in front row, increases block for 2 turns | +30% Max HP | When HP drops below 30%, all allies restore 26% of HP. Triggers once per battle | - |
| Mina | Support | | Restores HP equal to 105% MATK to ally unit with lowest HP | +10% MATK | +10% Healing effects for all allies | - |
2* Mercs
Edit
| Name | Type | Requirements | Uncommon | Rare | Epic | Legendary |
| --- | --- | --- | --- | --- | --- | --- |
| Sapulha | Melee | Sweetbriar | Deals 150% PDMG to 3 random enemies | +10% PATK | +120 Crit | +120 Crit DMG |
| Toko'Moko | Melee | VIP4 Pack | Deals 320% PDMG to target in front row, caster can not on next turn | +10% PATK | +100 Pierce | +150 Crit |
| Whiteclaw | Magic | Abraxas level 40 | Deals 35% MDMG to all enemies and causes AP | +10% MATK | +100 Pierce | +10% Speed |
| Granda | Magic | Beginners 7 Day Login | Deals 150% MDMG to first row of enemies (vertical), causes burn for 3 turns | +10% MATK | +100 Crit | -50 Block to all enemies |
| Gunaak | Defence | Mir level 40 | Deals 130% PDMG to target in front row, adds a DMG reduction shield | +30% Max HP | When HP drops below 30%, all allies restore 26% of HP. Triggers once per battle | +100 Block |
| Hexagear | Defence | Mir level 40 | Deals 130% MDMG to a random target and cause stun for 1 turn | +10% Speed | +20% Max HP | +10% MDEF |
| Monkey King (Max 4*) | Defence | VIP7 Pack | Deals 130% DMG to first row of enemies, +20% Block, retaliate (85% DMG) after block | +12% PATK | +160 Block | Reduce PDMG of enemies by 24% |
| Harpina | Support | Mina level 40 | Restores HP equal to 90% MATK to ally unit with lowest HP and reduces DMG taken on next turn by 90%. No mana increase for 2 turns | +10% MATK | +10% Healing effects for all allies | +10% DEF |
3* Mercs
Edit
| Name | Type | Requirements | Uncommon | Rare | Epic | Legendary |
| --- | --- | --- | --- | --- | --- | --- |
| Remi | Melee | Sapulha level 50 | Deals 160% PDMG to 3 random enemies and causes AP | +10% PATK | +150 Crit | +100 Pierce |
| Pisces | Melee | Sapulha level 50 | Deals 210% PDMG to a target in the rear row | +10% PATK | +50% PATK after Crit | +100 Pierce |
| Lunaria | Melee | Beginners 7 Day Login | Deals 160% PDMG to 1 line | +10% PATK | +100 Crit | +15% DMG for each attack sustained, capped at 45% |
| Galactica (Max 5*) | Melee | Event reward | Deals 205% PDMG to a target in front row, penetrates armour and reduces Block by 350 | +12% PATK | When HP drops below 30%, dodge increases by 480 for 2 turns. Triggers once per battle | +13% Speed |
| Phantos (Max 5*) | Melee | Event reward | Deals 165% PDMG to 1 line with 30% & chance to confuse them for 2 turns | +13% PATK | +200 Crit | 35% chance for full mana after mana surge |
| Kee | Magic | Whiteclaw at level 50 | Deals 75% MDMG to all enemies and reduces Pierce for 3 turns | +10% MATK | All allies' next attack deals 30% extra after block | +10% Speed |
| Sacajawea (Max 5*) | Magic | Event reward | Deals 150% MDMG to 3 random enemies and reduces their DEF by 17% | +13% MATK | +13% Speed | Protects you from lethal attack in the first 4 turns. Triggers once per battle |
| Queen of Justice (Max 5*) | Magic | Event Reward | Deals 170% MDMG to 3 random enemies with 40% chance to stun | +13% MATK | Deals additional 60% DMG to stunned enemies | +13% Speed |
| Lady Hell | Defence | Gunaak Level 50 | Deals 130% PDMG to target in front row, increase DEF by 25% for 2 turns | +30% Max HP | When HP drops below 30%, all allies restore 26% of HP. Triggers once per battle | +150 Block |
| Timberwolf | Defence | Hexagear level 50 | Deals 130% MDMG to 1 line, causes stun for 1 turn. No mana when for 2 turns | +10 Speed | +20% Max HP | +10% PDEF |
| Devilish Duke (Max 5*) | Defence | Event Reward | Deals 195% PDMG to 3 random enemies | Takes 40% less damage for the first 2 turns | When an ally takes damage, its next attack deals 17% more DMG (stacks up to 5 times) DMG bonus resets after this unit attacks. | When this unit attacks, 30% chance to retain DMG bonus stacks |
| Monkey King (Max 4*) | Defence | Monkey King lvl 50 & Starburst Ore 3* | | | | |
| Lunette | Support | Harpina level 50 | Restores HP equal to 115% MATK to ally unit with lowest HP | +10% MATK | +10% Healing effects for all allies | After Crit, -36% DG received for allies during next attack |
| Santa (Max 4*) | Support | Event Reward | Restores HP equal to 115% MATK to all allies in the back row & increase ATK by 12% for 2 turns | +12% MATK | +12% Speed | Restores 5% HP per turn to ally with lowest HP |
4* Mercs
Edit
| Name | Type | Requirements | Uncommon | Rare | Epic | Legendary |
| --- | --- | --- | --- | --- | --- | --- |
| Aqua Flux | Melee | Remi level 60 | | | | |
| Lord Mahk | Melee | Pisces level 60 | | | | |
| Galactica (Max 5*) | Melee | | | | | |
| Phantos (Max 5*) | Melee | 20 Phantos Shards | | | | |
| Silverback | Magic | Kee level 60 | | | | |
| Pyrol | Magic | Kee level 60 | | | | |
| Sacajawea (Max 5*) | Magic | | | | | |
| Queen of Justice (Max 5*) | Magic | | | | | |
| Windseeker | Defence | Lady Hel level 60 | | | | |
| Selene | Defence | Timberwolf level 60 | | | | |
| Devilish Duke (Max 5*) | Defence | | | | | |
| Borboleta | Support | Lunette level 60 | | | | |
5* Mercs
Edit
(Currently Starburst Ore 5* is not available in shop)
| Name | Type | Requirements | Uncommon | Rare | Epic | Legendary |
| --- | --- | --- | --- | --- | --- | --- |
| Ororo | Melee | Aqua Flux level 70 | Deals 165% PDMG to 3 random enemies and increases Crit. Sets Mana to 25 | +12% PATK | +12% Speed | +35% Crit for one turn following Crit |
| Triton | Melee | Lord Mahk level 70 | Deals 250% damage to the enemy unit with lowest HP plus 800 additional damage. Sets remaining Mana to 25 | +12% PATK | +50% ATK after Crit | +200 Pierce |
| Galactica | Melee | | | | | |
| Phantos | Melee | | | | | |
| Romulus | Magic | Silverback level 70 | | | | |
| Prince Hel | Magic | Pyrol level 70 | | | | |
| Sacajawea | Magic | | | | | |
| Queen of Justice | Magic | | | | | |
| Mange | Defence | Windseeker level 70 | | | | |
| Fireheart | Defence | Selene level 70 | | | | |
| Devilish Duke | Defence | | | | | |
| Evergreen | Support | Borboleta level 70 | | | | |
| Lexar | Support | Borboleta level 70 | | | | |
6* Mercs
Edit
| Name | Type | Requirements | Uncommon | Rare | Epic | Legendary |
| --- | --- | --- | --- | --- | --- | --- |
| Falcor | Melee | Ororo Level 80 | Three random attacks causing 130% PDMG each time. Increases mana by 10 and increases Crit | +12% PATK | +12% Speed | +35% Crit DMG for one turn following Crit |
| Mallaurge | Melee | Triton Level 80 | Deals 250% Damage to single enemy in rear row plus 1,000 additional damage; +25 to remaining mana | +12% PATK | +50% ATK after Crit | When HP would drop to 0, 1 HP is preserved. Can only be used once per battle. |
| Elder Nol | Magic | Romulus Level 80 | Deals 80% MDMG to all enemies and reduces enemy defence, plus an additional 800 Damage; sets remaining Mana to 25 | +12% MATK | Player Block +100, DMG of all friendlies +30% after block | +12% Speed |
| Hellfire | Magic | Prince Hell level 80 | Deals 180% MDMG to single target in front row; chance to recast for 400 additional damage | +12% MATK | +150% Crit | Chance to deflect debuff onto attacker |
| An'ghur | Defence | Mange Level 80 | Deals 150% damage to line in front, causing Bloodthirst for 3 turns | +32% Max HP | When HP is less than 30%, -60% DMG sustained | +12% DEF |
| Oculo | Defence | Fireheart Level 80 | Deals 150% MDMG to three random enemies; high chance to silence for 3 turns | +12% Speed | +30% Max HP | Normal attacks may reduce 25 enemy Mana |
| Dula | Support | Evergreen Level 80 | Restores HP equal to 115% MATK to all friendly units, sets remaining Mana to 25 | +12% MATK | +200 RES Crit | +25% Pierce for all party members |
| Calypso | Support | Lexar Level 80 | Activates shield that reduces enemy damage by 30% to all friendly units. Lasts 3 turns | +12% MATK | +5% DEF to all friendlies | +50 Block to all friendlies |