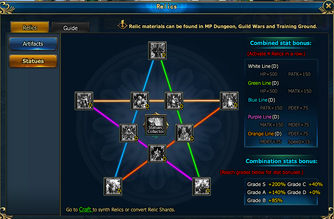 Increase your strength through artefacts found in MP Dungeon, Guild Wars, Training Room and Catacombs.
Current List of Relic Sets
[
edit
|
edit source
]
Artefacts - Consisting of Swords owned by mythological figures (related to Statues)
Statues - Consisting of mythological figures
All Artefacts require 3 of their respective Shards and Golden Dew used to improve chances of good quality. Also there are Relic Converters which allow you to change a Shard into the one you desire, however it costs twice as much to change it to a shard from another set.
You can use up to 20 Golden Dew on one artefact to increase the Quality chances. You can even use none providing you have one in your inventory.
Level of Quality
[D] Lowest Quality
[C]
[B]
[A]
[S] Highest Quality
When you craft four relics along the same line, you will gain extra bonuses depending on each line. These may be subject to change as new Relic sets are added.
| Colour | Bonus 1 | Bonus 2 | Bonus 3 |
| --- | --- | --- | --- |
| White | HP | PATK | |
| Green | HP | MATK | |
| Blue | PATK | PDEF | |
| Purple | MATK | MDEF | |
| Orange | PDEF | MDEF | SPEED |
Depending on the quality of relics within a line, will influence the Line Quality. For example:
Relic 1 = C, Relic 2 = A, Relic 3 = B, Relic 4 = S.
At best, the line will be a quality of C due to the lowest quality within the line. If this Quality C changes into a B, the whole line quality will become B.
You will receive a Relic Collector title when you have a complete set(s), it will upgrade to your lowest Quality level.
Community content is available under
CC-BY-SA
unless otherwise noted.