Spread your wings and soar. Once this unlocks, you can enhance them to gain more power for your character and mercs. When unlocked you will start off with "Ocean Blue Feather" glamour wings and can only look through the other wings that can be collected.
Once you have unlocked Crusades, this section will be open to you. This is where you level up your wings using Alae Ore and improve stats. When you reach level 20, you will receive the "Light Wings" glamour. The next glamour of wings then unlocks every 10 levels, up to the new Level 100.
The other tab that unlocks with Upgrade. This one is similar to Equipment sockets that improves stats even further. Also you can enhance these gems using Wing Heart. This will give a boost to Mercs as well. However, Mana gems are not affected by sockets in wings. You still have to put them in equipment.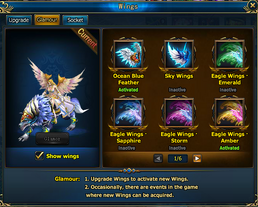 This section shows all of the wings that can be collected, including the ones from the upgrade tab.
Ocean Blue Feather - 1st Wings
Sky Wings -
Eagle Wings - Crafted using 100 feathers. Comes in 4 colours: Emerald, Sapphire, Storm (Pink) & Amber
Angel Wings - Comes in 4 colours: Emerald, Sapphire, Rose & Gold
Elf Wings - Comes in 4 colours: Emerald, Sapphire, Sotrm (Pink) & Amber (Reddish)
Electro Wings - Shards can be found in Random Shop. Comes in 4 colours: Emerald, Sapphire, Storm (Pink) & Amber
Demonic Wings - Limited shards found in Hot Events for collecting Merc Cards. Comes in 4 colours: Emerald, Sapphire, Amber (Red) & Gold
Midnight Flight - Available in VIP8 Pack
Light Wings - Level 20 Enhanced Wings
Magical Feather - Level 30 Enhanced Wings
Wings of Kings - Level 40 Enhanced Wings
Death Flight - Level 50 Enhanced Wings
Mist Wings - Level 60 Enhanced Wings
Flaming Wings - Level 70 Enhanced Wings
Spirit Wings - Level 80 Enhanced Wings
Golden Wings - Level 100 Enhanced Wings (Yeah there is no lvl 90 set)
Burning Feather -
Violet Wings -
Phoenix Wings - Comes in 2 colours: Amber (Fire) and Storm (Purple)
Opera Wings -